Business & Corporate Law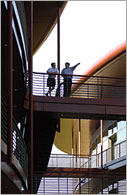 Nopar & Associates represents individuals and closely-held businesses throughout Silicon Valley and the San Francisco Bay Area. We are an AV Preeminent-rated law firm* focusing on business and corporate law and real estate law, with attorneys experienced in business transactions, real estate transactions, and commercial and real estate litigation.
For over 35 years, the Palo Alto business and corporate lawyers at Nopar & Associates have been helping businesses achieve their goals through corporate formation, mergers and acquisitions, financing transactions, real estate purchases, sales and leasing, and purchases and sales of businesses.
Attorney Alan S. Nopar, a Stanford Law School graduate, has extensive experience in business and corporate law. Before attending law school, Mr. Nopar earned a CPA designation and was awarded an F. C. Austin scholarship at Northwestern University Graduate School of Management. Alan is one of only five Bay Area attorneys named by Thomson Reuters in 2020, 2021 and 2022 as a Northern California Super Lawyer for Mergers & Acquisitions. He brings to clients a unique perspective that few business lawyers possess—a strong business knowledge, a firm understanding of how legal matters can impact a company's bottom line and a keen awareness of the tax consequences.
Our business and corporate law practice includes the following areas:
Mergers and acquisitions
Commercial lease agreements
Licensing agreements (including trademark and other intellectual property rights)
Executive compensation and employment contracts
General business matters
International Business Transactions
Executive Compensation
Employment Matters
Joint Venture Agreements
Project Financing
Technology Licensing
Trademarks
Trade Secrets
Venture Financing